Doctors & Staff
Meet the experienced and friendly doctors and staff who make Sitterle Vision Source the leading provider of vision care products and services in San Antonio.
---
Doctors
---
Scott Sitterle, O.D.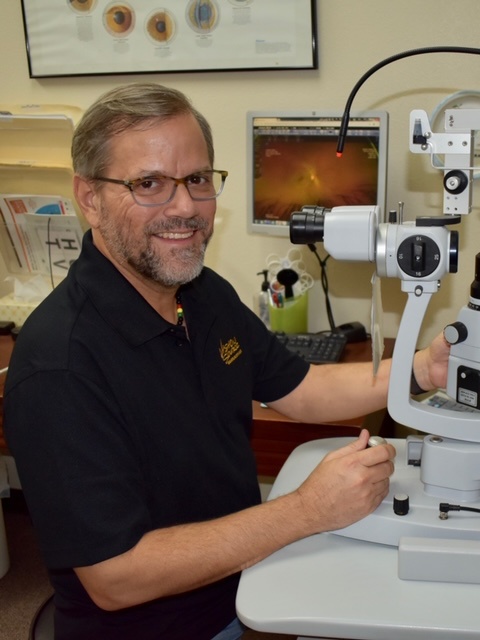 Dr. Sitterle opened his practice on Thousand Oaks in 1994. He graduated from the University of Houston College of Optometry in 1990. He currently sees patients Monday-Thursday. He is licensed as an optometric glaucoma specialist and in the diagnosis and treatment of eye disease, injury, and infection.
Dr. Sitterle has been an active member of the Community Bible Church since 1993 and plays trumpet in the praise orchestra. He is also a board member and past vice-president of the Northeast San Antonio Rotary Club. Dr. Sitterle is also a Senior Sales Coordinator for NSA/Juice Plus+, a company that educates the public on the relationship between nutrition and disease and markets fruit and vegetable nutritional supplements. His goal is to help his patients understand that almost 90% of all chronic disease (macular degeneration, cataracts, hypertension, diabetes, arthritis, cancer, auto-immune disease, etc.) can be prevented or managed through proper nutrition.
Most people don't know, but Dr. Sitterle volunteered as a radio DJ on 91.3 FM from 1990-1994. His favorite past-time besides music is chillin' in the sun. Favorite spots are the beach, lake, river, or pool; anywhere there is sun and water. He and his wife, Gloria, have been married since 1990 and have two sons, Philip, who works at Samsung in Austin, and Clifton, who is studying to be a Vet at Texas A&M.
---
Nicole Maldonado, O.D.
Dr. Nicole Maldonado was born and raised, right here, in our hometown of San Antonio, Texas. After graduating from O'Connor High School, she attended St. Mary's University where she received her Bachelor of Science Degree in Biology. Dr. Maldonado then attended the University of Houston College of Optometry in Houston, Texas, where she earned her Doctorate of Optometry Degree. Her training includes externship rotations at the Robert Cizik Eye Clinic at Memorial Hermann Hospital and at the South Texas Veteran's Administration where she focused on retinal pathology and ocular disease.
She loves talking with her patients, relaxing with family, country dancing, vacationing at the beach and last, but definitely not least, Go Spurs Go!
---
Staff
---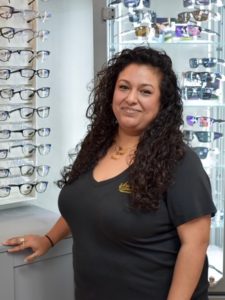 Kristi – Office Manager
Kristi has been with us since July 2010 after suffering through 4 interviews! She started as a receptionist and we could not take that anymore so we moved her to the pre-testing room. She wore out her welcome there so we moved her out into the optical styling eyeglasses. So basically, she works in almost every area of the office now! Kristi is a proud mother of a little boy so her spare time is spent with him. She hopes to someday travel outside of Texas. She loves rock music, old and new, like Deftones, Gorillaz, and Led Zeppelin; and loves watching Family Guy. Kristi is a fan of tattoo's, has 8, and hopes to get more. The more you spend in our optical, the more tattoos you will see!!!! She also loves butterflies.
---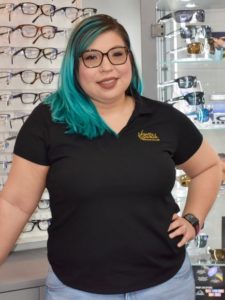 Nicole – Optical Manager
Hi, I'm Nicole. I have been in the optometry field since 2012 but am new to this office in 2017. I enjoy being a part of this business because I always find myself learning something new. My fav part of my job would be patient satisfaction. I believe in treating a patient the way I would like to be treated. Outside of the office, I like taking my daughter on mini adventures around San Antonio, just taking in the beauty around us.
---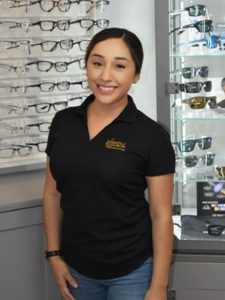 Yvonne, CPO – Insurance & Billing Specialist
My name is Yvonne, I was born and raised in Laredo TX. I moved to San Antonio 2 years ago and absolutely love it here! I am usually the person that will do all your testing in the exam room before you see the doctor.
I plan on going back to school soon and study nursing. My hobbies are cooking, going to the gym & shopping.
---
Chad, CPO – Optician
Chad is the coolest member of the staff (in his own mind), joining our awesome team in March 2009. He has been in the optical field for 7 years and is an expert at optical sales and eyeglass styling and fitting. Lastly, Tampa Bay isn't a real football team….Go Cowboys!! Like Dr. Nooshin, he also runs many half marathons (again-in his own mind)!
---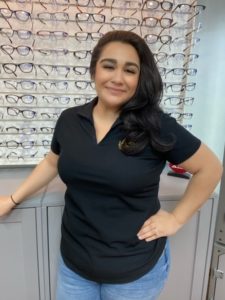 Arely, CPO – Optician
Hello, my name is Arely Hamre and I am from Sacramento, CA. I just recently moved to San Antonio & am so excited to start this new journey and explore this great state of Texas. Most of my time is spent with my amazing husband and dog. I enjoy kayaking, traveling, shopping, and anywhere with live music. I have been in the optical field for 4 years and I love what I do and enjoy helping people look great in their new glasses every day!
---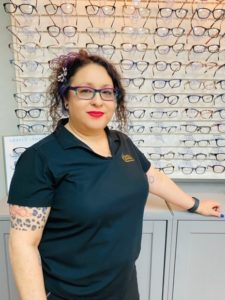 Veronica, CPO – Optometric Technician
Howdy, I'm Veronica and I've lived in San Antonio since age 11. I've been an optometric tech since 2008 and love every aspect. My world includes 2 grown boys who are awesome. I enjoy anywhere there is clear blue water, karaoke, live music, and beer.
---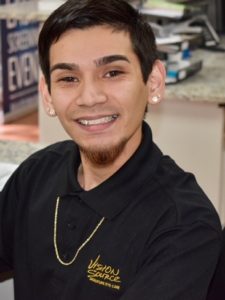 Braeden – Front Desk Concierge
Hello. My name is Braeden, and I'm a current student at the University of the Incarnate Word. I was not born here in Texas, however, I have lived here the majority of my life and I love it. Some of my hobbies include listening to music, learning new skills, and definitely meeting new people. I love to better my social skills and getting involved in my community. I live my life to the fullest trying not to let the negatives get in my way of progressing and lastly, I thank God for all the things he has done, not only in my life but in everyone else's as well.