LASIK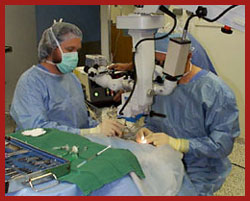 Clear vision without eyeglasses or contact lenses.
What is LASIK?
LASIK (Laser-Assisted in Situ Keratomileusis) is a surgical procedure that uses a laser beam to reshape the cornea.
Interested? Schedule an appointment with your eye care provider to learn more.
What visual problems can LASIK correct?
Patients who are nearsighted, farsighted or astigmatic may benefit from this type of procedure.
Am I a good candidate for Lasik?
While millions of patients have seen successful results from LASIK, the procedure is not right for everyone.
Your optometrist will need to thoroughly examine your eyes to determine which type of vision correction best fits your needs.
Want to learn more about your options? Schedule an appointment at Sitterle Vision Source to see if LASIK is right for you.